Dehumidifiers

For further information on all products please contact us.
Residential and Light Commercial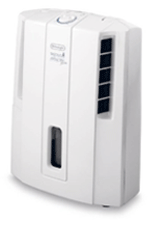 Domestic and Light Commercial Dehumidifiers are suitable for dehumidifying houses, cellars, basements, garages, boats, caravans, motor homes and sheds.
Dehumidifiers reduce the levels of moisture in your home & work area. High humidity is the main cause of problems such as; damp patches, condensation, mould and dust mites.
A good dehumidifier will reduce the amount of moisture in the air which will have many benefits such as; reduce condensation on windows and frames, reduces mould, helps dry clothes and will reduce the amount of dust mites. These units are particularly beneficial in older properties with solid walls and for those with bronchial and asthmatic illnesses.
Our range of domestic and leisure dehumidifiers includes absorption / desiccant dehumidifiers and compressor / refrigerant dehumidifiers.
Desiccant dehumidifiers attract moisture from the air to the dry desiccant chemicals which are carried on a rotor. The moist desiccant travels round the rotor to a drying sector where a gentle heat drives the water off the desiccant and into the holding tank / through the drain off hose. The desiccant which is now dry again moves around on the rotor ready to remove more moisture from the air.
Compressor dehumidifiers draw in the moist air which passes over a cold refrigerating element, where the moisture condenses, due to the tendency for water to settle as dew on a cold surface, and is carried away.
Desiccant dehumidifiers are very effective irrespective of the temperature where as traditional compressor driven dehumidifiers tend to be effective only in temperatures above around 15 degrees centigrade.
Please view our range of product catalogues providing you with the choice of both design and technical options.
Industrial and Building Dryers
High capacity industrial dehumidifiers and building dryers are most commonly used for drying areas which have been newly plastered and for areas which have been subjected to high water levels such as flooding.
These units are mainly used within the building construction and renovation fields, but can also be used for manufacturing processes such as drying out materials, food stuffs and products.
Please view our range of product catalogues providing you with the choice of both design and technical options.